November 2016 to March 2018
Voices and Visions: Master Series
​
​
​
​
​
​
This exhibit is comprised of a series of posters which pairs leading Jewish figures of contemporary art and design with powerful quotes from Jewish thinkers across the ages. This artwork was commissioned by entrepreneur and Jewish philanthropist Harold Grinspoon in 2012, and has been given as a gift to the Museum from the Harold Grinspoon Foundation. An exploration of identity through art, Voices & Visions is about art, powerful messages, combining them into posters, about starting conversations, and about continuing the Jewish journey.
September 2015 to May 2016
Jewish Journeys: A Photography Exhibit
​
​
​
​
​
​
​
​
​
​
This exhibit of photographs explored the rich beauty of Jewish locales and objects from around the world. The goal of the exhibit was to display a varied collection of quality photographs which have a connection to Jewish content or theme and that reflect a global Jewish perspective as well as the personal interpretations and vision of the photographers.

While many of the photographs were of sites in Israel, other locales such as Rome, Poland, Czechoslovakia, and St. Thomas populated the display. Included were iconic locales including the Western Wall in Jerusalem and Masada, and unique locations and subjects of hidden streets and bazaars.
​
Photographers were able to submit up to 10 photos for selection into the exhibit, and between 3 and 10 of each were exhibited.


October 2014 to August 2015
Jersey Homesteads: Experiments in Cooperative Living
March 2012 to October 2014
The Land Was Theirs: The Story of the Jewish Farmers of Monmouth County
Dr. Gertrude Wishnick Dubrovsky, who passed away in October 2012, was New Jersey's foremost historian of the state's Jewish farming communities.
Her 1992 book, The Land Was Theirs: Jewish Farmers in the Garden State, was aired as a PBS special in 1993. The film is an absorbing documentary about Farmingdale and other Jewish farming communities in New Jersey established with the help of the Jewish Agricultural Society.
The exhibit includes photos, texts, and artifacts that illustrate the experience of Monmouth County's Jewish farmers who by the late 1920's were already heavily engaged in poultry farming on a commercial scale. The ubiquitous chicken coop dotted the landscape of rural Monmouth as eventually Jewish farmers accounted for about 75% of New Jersey's total egg production.
- Jean Klerman
April 2012 to December 2012
Fun Can Be Work!
The Art of ClaraGee Stamaty, Stanley Stamaty, and Mark Alan Stamaty
September 2011 to March 2012
Jewish Experience in Pictures
Professional, Amateur and Student Photographs Capturing Monmouth County's Jewish Experience through the Art of Photography.
May 2011 to August 2011
Marilyn Michaels: Painting and Memories - a Multimedia Exhibit
The premiere exhibition of the artwork and memorabilia of theatre, television and recording star Marilyn Michaels.
The exhibit included oils, watercolors, pastels, and sketches of subjects, including portraits of famous celebrities, still-lifes, landscapes and abstracts. Also on display were memorabilia from her prestigious musical family heritage.
February 2011 to April 2011
Sheldon Sacks Exhibit
Sheldon Sacks, a highly popular commercial artist has had his work grace the pages of popular magazines and books as well as record albums. He worked in pen and ink, watercolor, and a combination of both. He also experimented with pure shape and color shellac collages. Besides being an artist, he was a passionate collector of carved pipes and Waterman pens, all of which were on display.
June 2010 to December 2010
World War II Tribute
February 2010 to March 2010
The Historical Memorabilia of Rabbi Sally J. Priesand, America's First Woman Rabbi
A few words about Rabbi Sally J. Priesand from Rabbi Brooks R Susman:
In 1972 history was made when Sally Priesand became the first woman ordained as a rabbi from a rabbinical seminary. News coverage was worldwide. The Jewish community realized that a sea change was taking place.
For the first time in history, a woman would serve in all sacred capacities. But what is so special about the ordination of Sally Priesand is that she is not a female rabbi. Rather she is a rabbi who is a woman. Her place in history would be secured had she been recognized as the pathfinder. But she creates an even greater history through her commitments to all communities; her advocacy of Tikkun Olam and the repair and maintenance of our world.
Rabbi Priesand served for twenty five years as rabbi of Monmouth Reform Temple where she is now rabbi emerita. Monmouth County is grateful for her continued presence in our community and enriched by having her history as part of ours. The exhibit of the Jewish Heritage Museum of Monmouth County is the first time that Rabbi Priesand's archival history is displayed as a fully realized personal time-line. The Museum is honored to be among those who celebrate the rabbinate of
Rabbi Sally Priesand.
September 2009 to January 2010
Textile Exhibit
September 2008 to December 2008
Jacob Landau: Humanist and Visionary
On Sunday, September 14, 2008, the Jewish Heritage Museum of Monmouth County hosted a gala opening reception for its first major exhibit—"Jacob Landau: Humanist and Visionary." Held at the Museum's Levi Solomon barn location in Freehold, the event was attended by more than 160 guests. The highly successful fund-raiser chaired by Dr. Joel Stern featured a program that included insightful commentary on the artist's work by Dr. David Herrstrom, president of the Landau Institute, and a wonderful musical presentation by David Brahinsky and Friends, Roosevelt, NJ.
Funding has come through gracious catalog sponsorship by members of the community and a generous grant by The Bank (thebankonline.com).
JHMOC's exhibit of 23 works of prominent Roosevelt, NJ artist, the late Jacob Landau, including seven lithographs in his Holocaust Suite,was made possible through the collaborative efforts of the Jewish Heritage Museum and the Jacob Landau Institute. Curator for the exhibit was Rosa Giletti. Landau's work is included in the permanent collections of the National Gallery of Art in Washington, DC, the Museum of Modern Art, New York, the Philadelphia Museum and many other eminent museums.
JHMOMC's exhibit of the art of Jacob Landau was very well received and was extended through December 30, 2008.
Members of the Gala committee included, Susan Winter, Mildred Lautman, Gloria Berman, and Beverly Stern. Assisting at the event were Gary, Helene, and Josh Cohen, Dr. Robert Winter, Cheryl Ingerman, Barry Kaplan, and Ellen Rockmaker. Michael Berman, president of the JHMOMC was ex-officio and his assistance was invaluable.
— Joel Stern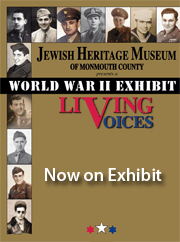 "I found a fruitful world, because my ancestors planted it for me. Likewise I am planting for my children.
Talmud. Taanit 23A
Artist: Mervyn Kurlansky
"From every human being there rises a light"
Baal Shem Tov
Artist: Tom Geismar
Let's Dish: Family Histories through Dinnerware





Visitors will see samples of dinnerware used by local families for holidays and events, and learn about the stories of the original owners. Included are sample recipes that families have enjoyed on their dishes.